Eddie Petterson Johnson & Sarah Catherine Johnson, my paternal grandparents. Eddie's parents were Thomas H. Johnson and Mary Catherine Johnson.
On Mary Catharine Combs' (my paternal great-grandmother) headstone it says that she married Thomas H. J. Johnson April 1, 1851 and being left a widow during the Civil War, married William Combs February 11, 1865. I found both marriages listed in their county entries. In the 1860 census, Thomas was listed as a tavern keeper. That was the year before Eddie Peterson (Thomas' last child) was born. He died in Salito, MS after the siege on Corinth. He is found on the Roll of Militia, Pontotoc County, February 20, 1863, in Justius Beat 3, J. G. Middleton, Enroller, serving under Captain McWhorter, Company K, Beat 31, Infantry.
In 1981 Aunt Red placed an article in the Cooper Review. In it she said Mary Catharine (Johnston) and Thomas H. J. Johnson came here together in 1867. I presume that the reporter who took the story deleted some information to make it more succinct. Anyway, Mary & William had been married a couple of years and already had 1 child, the others were born here. Thomas' full name was Thomas Hardaway Jones Johnson.
Children of Mary Catherine & Thomas H. J. Johnson were: John Wesley, Sankey Thomas, James Lindsey "Jim", William F. and Eddie Peterson (my paternal grandfather) Johnson.

Children of Mary Catherine & William Edward Combs were: Dr. Robert Lee "Bob", Susan Catherine, Charles Piner and Annie Josephine Combs.

After Mary & William died in 1878, the children still at home, went to live with relatives: Eddie lived with Sankey; Bob lived with Jim; Susan lived with her Aunt Rebecca A. (Johnston) White, Charles lived with his Aunt Eleanor Combs and Annie lived with her Aunt Ella Perkins.
Eddie & Sarah Johnson, my (Earl's) parental grandparents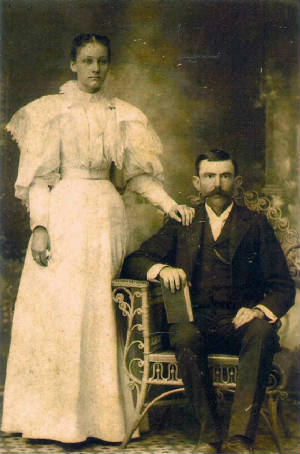 Eddie & Sarah Johnson's Wedding Picture

Eddie was born July 29, 1861 in Mississippi. Sarah was born February 2, 1878 in Charleston Texas, Delta County. Eddie was seventeen years older than Sarah. They were married January 2, 1898. They had eight children.

1. John W. Johnson, born 9/7/1899. Died 8/1/1900.

2. Mary Viola Johnson, born 3/31/1901. Died 3/16/1923.

3. James Allen Johnson Sr.,

born 7/25/1903 in Lake Creek, Texas. Died 3/16/1972.

4. Sue Ann Johnson, born 4/1/1905 in Lake Creek. Died 6/24/1935.

5. Wesley Thomas Johnson 'Wes Tom' [my father] born March 4, 1808. Died 7/12/1956.

6. Harvena Lee Red Johnson, born 2/24/1910. Died 5/21/2001.

7. Little Brother Johnson, born 9/17/1911. Died 9/17/1911.

8. Naomi Catherine Nancy Johnson, born 12/26/1912. Died 1/1/1988.

Eddie Johnson had an obsession for learning, especially reading, his passion. Even in his wedding picture (above) he is holding a book. One story was that he would even read a book as he rode his horse. He stopped at a pool of water so the horse could drink. It was a hot day and the horse wadded into the water to cool off. Eddie looked up from his book and was supprised to see his clothes wet to his waist.

His desire for higher learning took him to England to get the degrees he wanted as they were not offered in this country at that time. When he returned to America he taught school in Georgia. He later moved to Paris, Texas and taught school there for awhile and later he taught in Delta County.

Eddie Peterson Johnson and Sarah Catherine Wilson married January 2, 1898. Sarah (my grandmother, I called her Granny) had inherited a nice house and two and one half acres from her parents, John and Sarah Wilson. It was about half a mile east of Lake Creek just east of the cotton gin. So, Eddie and Sarah moved into the house. There was a white picket fence around the house. In the early days the house had nice carpet and wallpaper. Eddie had some money and they bought beautiful furniture.

Granny also received a fifty acre farm from her parents. It was about one half mile east of there. Eddie decided to quit teaching and become a farmer. They farmed the land, raising mostly cotton. All of Granny's siblings received either land, money or a college education from their parents. All of the girls received houses and land, as it was the general feeling in those days for the women to stay home and take care of the children and the home and did not need an education. It was believed that Uncle Bill and Uncle Harve received the education and Uncle Tom took the money; he had a butcher shop in Cooper. Vivian remembers he was a nice man with a white apron. Uncle Bill became an attorney.

To lay a little background about some of the other Wilson Children; Cuma married Charles Skeen on September 5, 1907. They had four children: Paul, Lillian, Johnny and Calvin. Charles died and Cuma brought the children back to the Wilson home to live.

Winnie married Paris 'Pat' Ayles January 7, 1915. They lived in the Wilson home. They had three children; one was Virginia, still living, and two children that died as babies; Blondelle Ayles, born 6/17/1917 and died 10/17/1918, and Woodwroe H. Ayles, born 6/17/1920 and died 6/16/1922. Ida, the oldest daughter, lived in Lake Creek with her husband and six children. After her husband died she and the six children returned to the Wilson home to live. That must have quite a houseful.

I don't know the names of Aunt Ida's children but she had a son named Elbert Stegall. When he grew up he farmed her land. Ida had a daughter named Annie. When she grew up she married Jim Barnett. Jim's first wife died and left him with a daughter named Melba. They had a service station and grocery store in Lake Creek. Anna also ran the telephone service in Lake Creek.

Anna was a very good stepmother to Melba. Melba was a smart girl; she wrote and published a book. After Jim Barnet died Anna moved in with Ida, her mother. The house was in Lake Creek about a block east of the store. I remember riding my bicycle to their house when I was a boy. Aunt Ida had long hair that she kept in a large bun. One day while I was there she was combing it and it was so long it reached the floor when she stood up. She said that her hair had never been cut her entire life. Aunt Ida had a

telephone, the first one I had ever seen. It was one of those large wall telephones that had a hand crank on the side. You had to turn it a few times to get the operator.

Eddie was not good at farming and it was hard in the beginning for them to make a living the farm.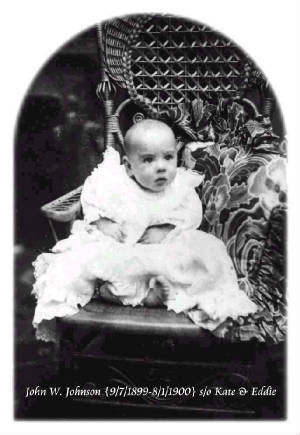 On September 7, 1899 their first child was born. It was a boy and they named him John W. Johnson. So now Eddie really needed to make more money. He decided to teach school again for awhile and still work the farm in the summer when school was out. His teachers certificate from Georgia was no good in Texas, so he had to take a test for a new Texas teaching certificate. He taught in Paris for awhile and then in Delta county near Cooper, TX. John did not live very long, he died August 1, 1900. Granny helped work the farm, even right after her baby was born.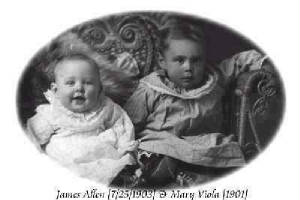 On March 31, 1901 their second child was born it was a girl and they named her Mary Viola Johnson. She made up some of the sadness of losing John however, they were worried that the same thing might happen to her, and they gave her special attention and loving care.
James Allen & Mary Viola
Their third child was born August 25, 1903. It was a boy and they named him James Allen 'Jim' Johnson.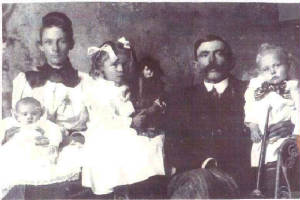 Their fourth child was born April 1, 1905; it was a girl and they named her Sue Ann Johnson. Sarah would take the baby and her other two children and walk to her parents, John and Sarah Wilson's, house for a visit. Their house was about a mile down the road but they would take a shortcut across the fields. All of Eddie and Sarah's children called Sarah Wilson, their grandmother, "Mother Wilson". John W. Wilson, was still living at this time, but I don't know what they called him.
Eddie, Sarah & three of their children. Sarah holding Sue Ann (3 months old). The girl in the middle is Mary Viola. The boy far right is James Allen Johnson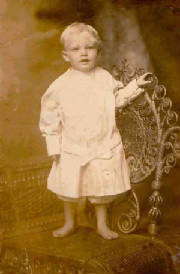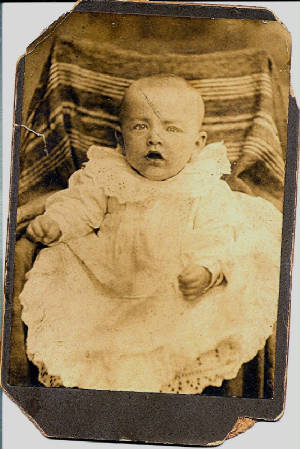 Wesley Thomas 'Wes Tom' Johnson (my father)
On March 4, 1908 Eddie and Sarah's fifth child was born; it was a boy and they named him Wesley Thomas 'Wes Tom' Johnson (my father).
By now John Wilson was getting up in age but he was still able to work his farm; he was a cotton farmer also. As he grew older the pain from his leg grew steadily worse. The mini ball in his leg that he got fighting in the Civil War was never removed.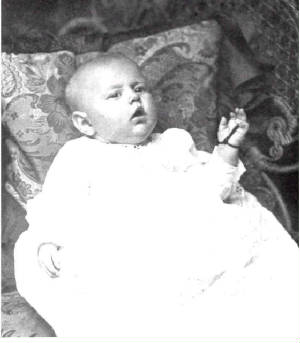 Their sixth child was born February 24, 1910; it was a girl and they named her Harvena Lee 'Red' Johnson.
As the years passed they never seemed to make enough money to take care of their home and it became run down. There was no birth control in those days and the kids just kept on coming.
Harvena "Red' Johnson
Their seventh child was born September 17, 1911. It was a boy and he was born dead. They did not give him a name, he was listed in the family Bible records as, Little Brother Johnson. Their eighth and last child was born December 26, 1912. It was a girl and they named her Naomi Catherine 'Nancy' Johnson.
Cotton was King in those days; just about everyone in Delta County raised cotton. Some of the larger cotton farms had their own cotton gin. Sarah's father, John Wilson, built the first cotton gin in Delta county; it was powered by oxen. It burned and he later built a second gin. The smaller farmers took their cotton to a local gin. Eddie took their cotton to the Lake Creek gin. There the cotton was ginned and pressed into bales. The cotton bales were taken to Paris, Texas (about eighteen miles north of Lake Creek) to a large building called a compress. There the bales were compressed into smaller bales for shipment. The cotton bales were then shipped by train to cotton mills where the cotton was made into cloth. In those days the trains were powered by steam engines.
Back row: Sue Ann, Mary Viola & James Allen. Front row: Wes Tom & Harvena Lee (Red).
As I said earlier, Sarah's (Granny's) parents lived only about a mile down the road. At this time Sarah and Eddie's oldest daughter Mary Viola, was a teenager. She and Winnie were close friends and spent a lot of time together. Mary Viola, and all the other grandchildren called Sarah Wilson, 'Mother Wilson.'
One night Viola was spending the night with Winnie and remembered something her mother, Sarah Johnson (I called Granny) had told her about how to meet the boy of your dreams. Granny had learned this from her friend that lived in the bottom land northeast of Mother Wilson. Granny's friend sounds something like a gypsy, but some people thought of her as a witch.
To accomplish this somewhat illusive feat, they were to boil an egg, cut it in half, throw away the yoke and fill each part of the egg white with table salt. Then they were to each eat one of the salt-filled halves without drinking any water and go to bed. In their dreams the boy they would marry would bring them a glass of water to drink. Both Winnie and Viola tried the egg venture and went to bed to dream about their future Prince Charming. A boy named Charles Edgar, who lived in Dallas, was visiting his cousin down the road. The next morning Charles and his cousin knocked on the door. Both Winnie and Viola answered the door. The boys asked to speak to Mother Wilson. After the boys left Viola said to Winnie, "That's the boy who brought me a glass of water in my dreams last night!" They both laughed about it, but it was love at first sight for Viola and Charles.
Go to: Eddie & Sarah Johnson, Page 2